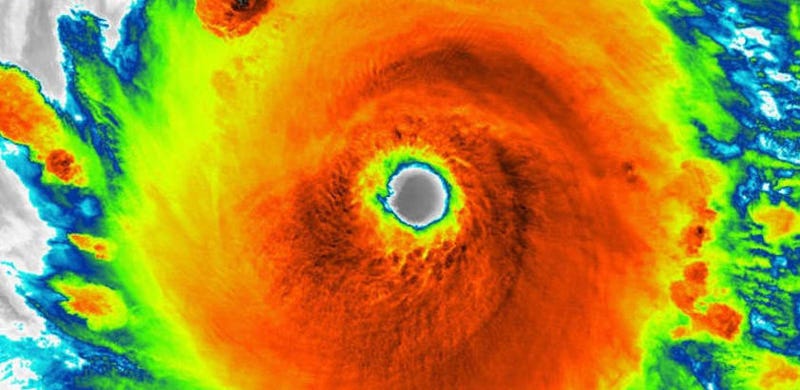 Image: Huracán Lane (Cooperative Institute for Meteorological Satellite Studies at the University of Wisconsin-Madison)
En las últimas horas, el huracán Lane se ha convertido en una tormenta de categoría 5 mientras se acerca a la costa de Hawái. El gobierno ha alertado con la posibilidad de que no haya refugio para todos si el fenómeno toca tierra.
Lo cierto es que los huracanes rara vez tocan tierra en Hawái, ya que el Pacífico Central no ve tantas tormentas como el Atlántico o el Pacífico Oriental, y las Islas Hawaianas presentan un pequeño objetivo en el Océano Pacífico. De hecho, solo cuatro tormentas con nombre -dos huracanes y dos tormentas tropicales- han tocado tierra en Hawái desde 1959.
Con todo, el huracán Lane parece destinado a afectar a las islas, y hace unas horas estaba a unos 855 kilómetros al sureste de Honolulu con vientos máximos sostenidos de 260 km/h. El pronóstico coloca la tormenta muy cerca de las islas, con una más que posible llegada a lo largo de esta semana.
Ante esta perspectiva, el gobierno ha emitido una advertencia para la Isla Grande de Hawái, y se aplicaron avisos de huracán para Oahu y el condado de Maui. Según advirtió el Centro de Huracanes del Pacífico Central.:
Lane se pronostica que se moverá peligrosamente cerca de las principales islas hawaianas como un huracán a fines de esta semana, lo que podría provocar vientos dañinos e inundaciones repentinas que amenazarán la vida a causa de las fuertes lluvias.
Mientras, el alcalde de Honolulu, Kirk Caldwell, instó encarecidamente a los residentes y visitantes a que se preparen:
Esta tormenta es muy peligrosa, y debemos tomarla muy, muy en serio, y todos estamos trabajando juntos en este punto para que planeemos lo peor y esperamos lo mejor.
Con el fenómeno acercándose rápidamente, en las últimas horas se han visto colas en los supermercados para acumular lo básico, incluyendo agua, alimentos y papel higiénico. El gobierno ha recordado que la mayoría de los kits de emergencia deben tener al menos dos semanas de alimentos no perecederos, medicamentos, una linterna, una radio y otro equipo de supervivencia. También debería haber suficiente agua para que cada persona en el hogar pueda beber diariamente.
Finalmente, a última hora habló Tom Travis, jefe de la Agencia de Emergencias de Hawái. El hombre advirtió del peligro potencial al que se pueden enfrentar muchas personas por la imposibilidad de encontrar refugios para todos:
Algunos de los riesgos que involucrarán al huracán Lane incluyen fuertes vientos que pueden causar peligros y amenazas a estructuras, tornados y rayos, y un problema particular que me gustaría enfatizar son las inundaciones. No tenemos suficientes albergues para todos, la política de refugio debe ser que la mayoría de los ciudadanos permanezcan en sus hogares. Si se encuentra en una zona de inundación, entonces debe buscar refugio de forma activa en otro lugar.
Y es que tras el episodio que se vivió hace unos meses con la alerta falsa de misiles, el gobierno informó que no tenían suficiente espacio de refugios para todos sus residentes. Si bien la población es de aproximadamente 1,4 millones de personas, el informe dice que solo hay 277.376 espacios disponibles para emergencias. [CNN, Buzzfeed]